Let's face it — managing employees' benefits can be a headache. The process is full of challenges. From ensuring all the employees are enrolled on time, to keeping track of various plans and packages. Sometimes, outdated software or manual methods can lead to errors and inefficiencies and affect employee satisfaction.
We get it; we've been there. Payday HCM has been handling these situations for over 30 years, and we know what you're going through. Benefits management isn't just about selecting a package; it's about letting your employees easily access and understand their options while ensuring all regulatory and company-specific guidelines are followed. The need for a tool that simplifies this complicated process is clear.
The good news is there's a way to ease and simplify this HR function. The benefits enrollment tool has been designed to address the common challenges in benefits management specifically. This tool makes enrollment smoother for everyone. It has user-friendly interfaces and real-time data integration. No constant firefighting is needed. Being partnered with isolved since 2018, we will tell you what you need to know to work with their tool.
At the end of this article you'll know how to:
Use the enrollment dashboard
Compare Benefits
See how real-time confirmations keep you up-to-date
How to use the tool with other integrated modules


4 Key Points to Help You Get Started with the Benefits Enrollment Tool
1. The Enrollment Dashboard: Your Starting Point
When you log into isolved, employees are immediately directed to an enrollment dashboard. This is designed as the central hub for all things related to benefits selection. This dashboard will act as a dynamic guide through enrollment. This layout categorizes benefits selection into various stages or steps — often mirroring the employee's decision-making process.
For example, items are organized into tabs or sections such as "Completed," "In Progress," and "Pending,". Employees and employers receive real-time updates to know the status of tasks and reduce uncertainties or anxieties.
When making healthcare decisions, it's important to be organized. For example, you may need to choose a primary healthcare plan and decide if you want additional coverage for dental or vision.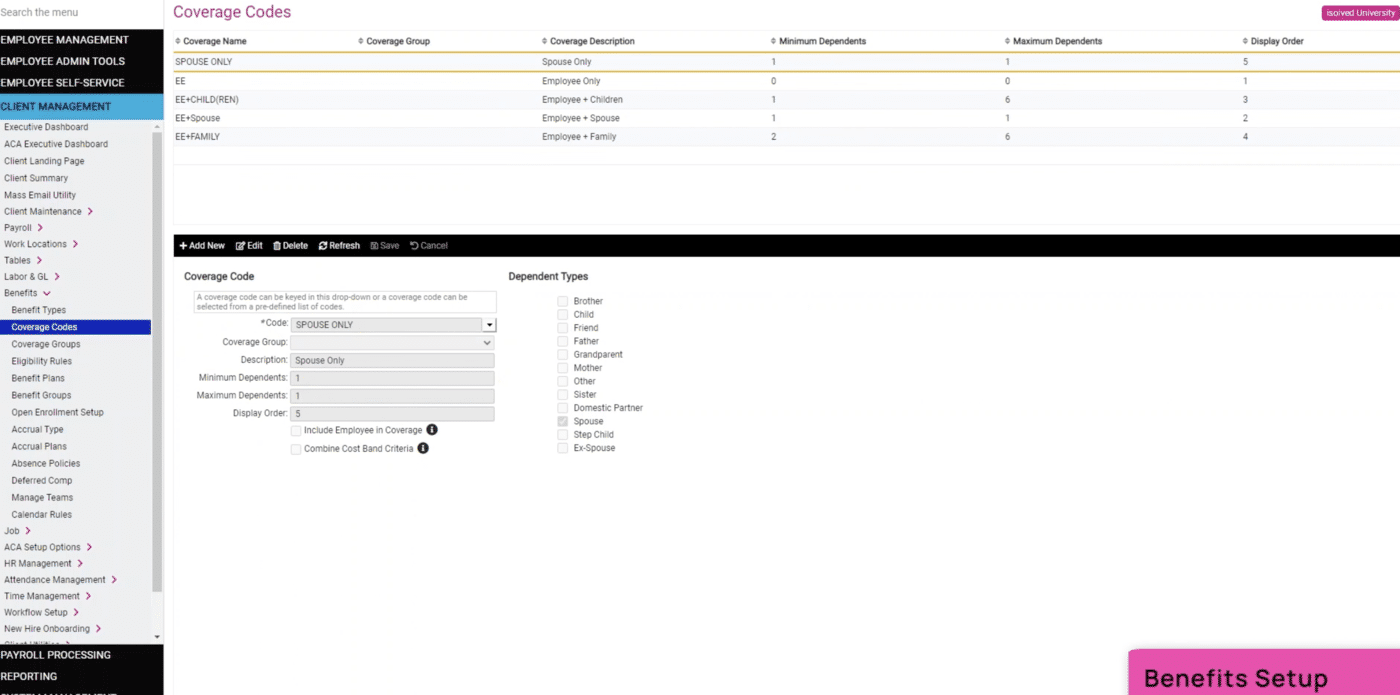 The dashboard isn't just a tool for viewing; it's interactive. Employees can click into different sections to dig deeper into each type of benefit — health, dental, retirement plans, or even specialized offerings like life insurance and disability coverage.
Each click takes you to a new screen where specific details of the plans can be compared, changes can be made, and selections can be finalized — all without having to navigate away from the dashboard.
This level of user-centric design allows the employee to have all the necessary information and tools at their fingertips, making the otherwise complex task of benefits enrollment far more manageable and less time-consuming.
2. Plan Comparisons: Make Informed Choices inside isolved
The plan comparison feature truly shines as a decision-facilitating mechanism for employees. When an employee chooses a benefit, like health insurance, the tool shows all options.
This display includes details going beyond just premiums and copays. Employees can see the out-of-pocket maximums, deductible amounts, covered procedures, and the list of in-network providers — all critical factors in making an informed decision.
The system also incorporates real-time data, ensuring that all presented figures and details are current. This is especially helpful when there are changes or updates to the plan. It makes sure that employees review the newest and most important information.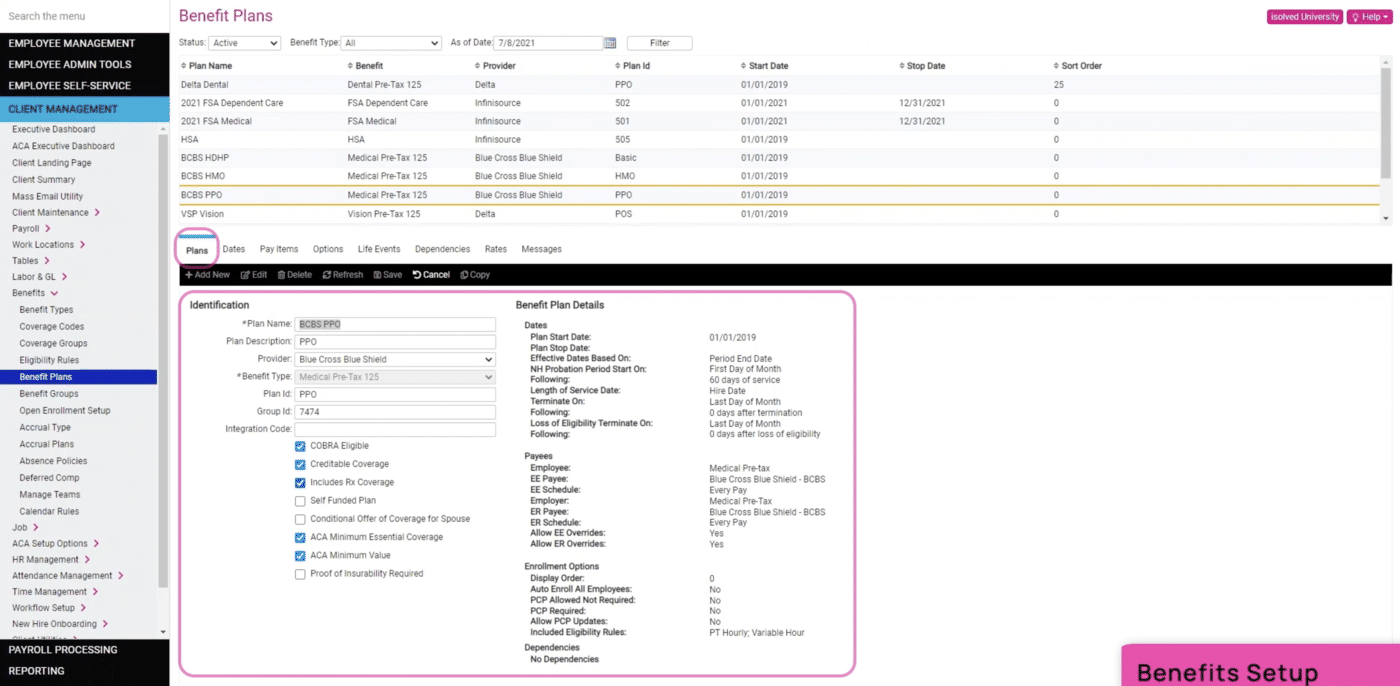 The tool lets you customize the displayed data points. If you care more about prescription drug coverage than in-patient care, you can highlight those aspects in the comparison view.
The plan comparison tool makes choosing benefits easier by simply showing the information. It reduces the need to consult multiple sources of information or spreadsheets.
Instead, it offers a place where employees can easily find and choose the best plan for themselves or their families.
3. Staying Up-to-Date with Real-Time Confirmations
Once employees finalize their choices in the benefits package, the tool provides immediate confirmation to both employee and employer — there's no delay. The system updates the selections in real-time. This helps employees double-check, and HR teams finalize benefits smoothly.
The real-time confirmation is not just convenient, but also a built-in verification process. It eliminates errors or oversights.
In addition to immediate confirmations, the tool is designed for transparency and communication. If an employee decides to modify their benefits selection after the initial choice — perhaps switching to a different health insurance plan or adjusting their retirement contributions — the system automatically sends notifications to both the employee and the HR department.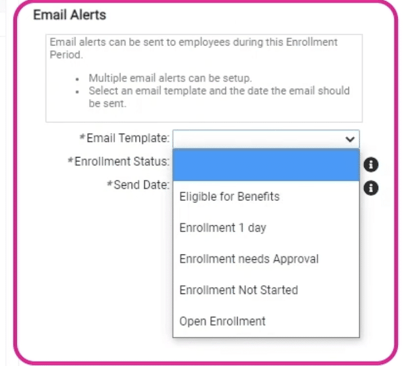 These alerts serve multiple purposes. For employees, they provide an added layer of confirmation that changes have been received and processed. It immediately cues HR teams to review the updates and ensure they are appropriately reflected in payroll and other connected systems.
The immediate confirmation and automated notification features are more than just bells and whistles — they fundamentally smooth over communication and increase efficiency and accuracy.
This builds trust and confidence among employees in how benefits are handled. It also reduces HR departments' administrative load.
4. Integration with Payroll and Other Modules
The integration of the tool and other isolved modules, like payroll and time tracking, acts as a force multiplier across your HR operations. Suppose an employee picks a health plan with a different monthly cost than their old choice.
In many organizations, making this kind of change would trigger a multi-step, manual process to update payroll, possibly involving spreadsheets, emails, and a fair amount of double-checking to prevent errors. However, isolved automates this procedure.
The system automatically updates the payroll module when an employee chooses a new benefit. This real-time synchronization isn't just a time-saver; it's a fail-safe against human error.
The system removes manual data entry, which reduces mistakes. Mistakes can cause headaches for employees and HR departments.
The benefits go beyond just payroll. The tool is integrated with time tracking. This means it can account for benefits tied to hours worked. This ensures a more holistic and accurate approach to managing human capital.
Using isolated or siloed systems leads to inefficiencies. Data reconciliation is time-consuming and prone to errors. The integrated nature of isolved ensures that each part of your HR ecosystem is consistently informed and updated, streamlining operations and improving overall accuracy.
Making the Most of isolved's Benefits Enrollment Tool
Integrating a new program into your business model might feel stressful, but we can help you. Now that you're equipped with the tools to help you exceed you can apply your knowledge with the best foot forward.

Take the next steps in upgrading your HR capabilities. Know the best solutions when it comes to benefits management.