The high cost of health benefits is something that is on a lot of business owners' minds. If you are one of these business owners, you might be asking "How do I control these costs?" or "Why are benefits eating up so much of my budget?" These are valid questions and ones you should be asking. We want to help you by reviewing some of the things we've learned over the years and help you determine whether you are overpaying for your benefits package and what you can do about it.

PaydayHCM has been in the payroll and benefits business for nearly four decades. Our founder, Andrew Siegel, has been on the cutting edge of HCM (human capital management) since before it even had a fancy name. He had a vision early on of simplifying business by combining payroll and other services. As a result, he has built a team of seasoned experts over the years.

After reading this, you will feel empowered to investigate your own benefits costs and save money as a result. Are you a small or medium-sized business owner, struggling with the cost of your benefits? Then let's get into it
Small Businesses Have Fewer Options
So, for small businesses (that's 2-50 employees here in New Mexico but it can vary by state), it is actually pretty straightforward. There are a few things that can be done to bring rates down. Small businesses are subject to shelf rates and those are age-rated. What does that lingo mean? Basically, the prices for small businesses are set and they're set by employee age.

The average cost of an employee premium is $651 per month for small businesses and the average cost per family is $1,817. These are staggering numbers. It's easy to see why employers struggle with this issue. One thing that can help with these costs is the type of funding you choose.
Different Types of Funding Can Affect Pricing
There are different types of funding that can affect the pricing, even for a small business. For example, fully insured and level-funded.

Level-funded plans share the risk between the insurer and employer (a type of self-insured plan).

Fully insured is what we think of traditionally and it's where the payer takes on the most risk.

It's important to remember that small-group employer contributions vary. Medical insurance carriers sometimes set a minimum requirement of 50% of employee contributions, while other carriers don't even require an employer to contribute at all.
Medium-Sized Businesses Have More Options
Medium-sized businesses (51-150 employees in NM) are also affected by the different types of funding available, but that is where the similarities end. Businesses of this size actually have many more options for controlling the costs of your coverage and customizing your plan.

There are different categories of plans, including HMOs, EPOs and PPOs. HMOs are the most restrictive type of plan but are lower in cost, EPOs offer slightly more flexibility and PPOs are the most flexible type of plan but also the most expensive.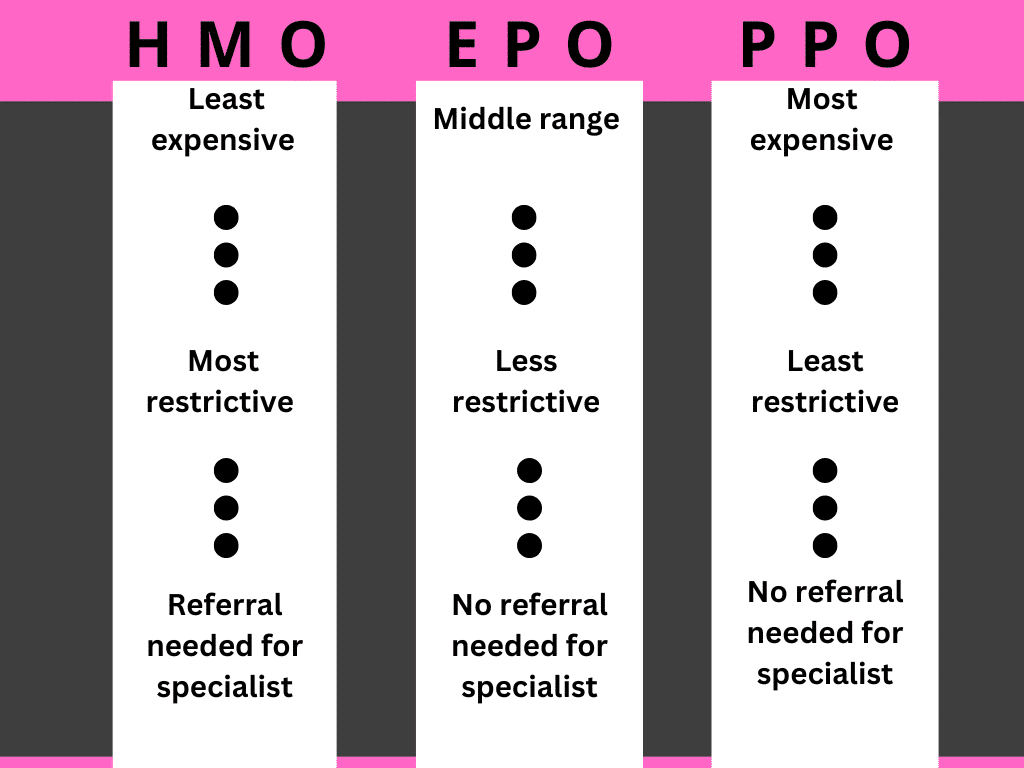 The average yearly amount paid by employers for all plan types is $6,227 for individual coverage, with employees paying an additional average of $1,243. In the case of family coverage, employees average paying $15,754 and employees pay an additional average of $5,588.
What You Need to Know About the ACA
The mid-sized business category is also where the ACA (Affordable Care Act) comes into play. This means if you have 51-150 employees, you are required by law to comply and provide insurance options for your employees or risk penalties. Whether it is cheaper to insure everyone or pay the penalties is a question many business owners struggle with, due to the high costs of healthcare.

With the right broker, though, you can avoid that difficult question altogether. A good broker will do ample research on your behalf. They will help you find coverage options within your budget and guide you through the complexities of the ACA, to assure you are in compliance
Other Ways Your Broker Can Bring Down Costs
What are other ways that a broker can help bring your costs down? Claims data is one important area of focus for a good broker. They should be doing their due diligence each year to shop the market for better-priced coverage. At that point, they can return to the original healthcare provider and use that information to negotiate a better price on your behalf.

Additionally, your broker can ask your healthcare provider to justify their rate increase, if it doesn't make sense with the claims versus premiums. This means that if you are paying your premiums and not exceeding them, the healthcare provider is not incurring extra costs and needs to give an explanation for a rate increase.

Any increase can have a significant impact on overall business costs, as well as the pocketbooks of each employee. So, it's important to have an advocate on your side. A great broker will question increases and work to get you the best rates possible. This is crucial in the insurance world, where costs are high and any changes can cause disruption in care for employees. That's the last thing you want.

Again, a broker who is working on your behalf will carefully weigh the costs and benefits, if a change in care providers is necessary. But this is not to be taken lightly because, as mentioned before, these changes can cause disruptions in care, which are never good.

Find a broker that understands the impact of their own decisions on your employees. Ask them in which scenarios they would consider a change in providers and what they would do to reduce the impact of disruptions on your employees if those changes were necessary.

Bundling, Another Savings Source
Bundling is another source of savings that your broker can tap into. Just like those cheeky Progressive insurance commercials, you can get discounts on your business healthcare plans by bundling. The term insurance companies will use for this is "points off." For example, your broker may look into bundling your dental, vision, life, disability, etc. These can lead to more discounted rates. What's paramount is that the plan matches your organization's needs. That will look different for each business and each group of employees.

Another option for saving yourself and your employees' money is to offer multiple types of plans. This keeps your rate down because the base plan remains the same as an affordable option that's in compliance with the ACA. But then you will also have "buy-up" options. The buy-up options would allow those with additional medical needs to get more comprehensive coverage while absorbing the cost themselves.

What to Remember About Insurance Benefits
If you're worried that you are overpaying for insurance benefits, remember that there are plenty of actions your broker can take to help you get the best price possible. Even though health insurance rates can be very high, you are not at the mercy of the system. There's always a way to save money or reduce costs, from the different types of funding to bundling your benefits services for discounted rates.

Want more information on employee benefits? You can visit our employee benefits information page and find out what we offer in comparison to your current broker. You can also read about the New Mexico Healthy Workplaces Act and how that might affect your benefits offerings.

We know the ins and outs of the insurance industry and exactly how to help you here at PaydayHCM. If you're looking for experienced pros who can save you time and money by getting you the best pricing on coverage possible and streamlining your business operations, then let's get in touch.